Opal Charters Transfers and Trips
Start your holiday or business trip in style with Opal Charters.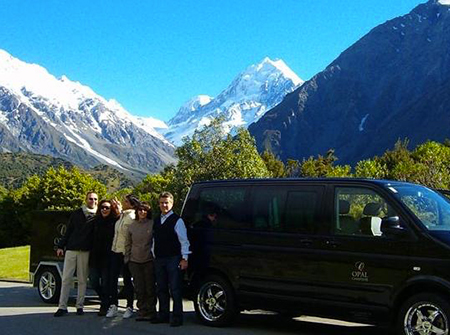 Whether you are arriving at Christchurch Airport, or Lyttelton / Akaroa Port on a cruise ship, we can meet and greet you, take you directly to your hotel or via city sights enroute. We can provide part or full day holiday excursions or business trips. A fully Bespoke service guided by a Local.
Opal Charters can take you to any destination, including:
Accommodation in Christchurch, Canterbury or further afield
Hotels, Resorts, Luxury Lodges - we are familiar with them all
City Sights tours of the usual highlights or any of the Special Interest venues that may appeal
Championship or regular Golf courses
Airside pickups / drop offs for private jets / helicopters with separate luggage transfers / weather backup service as required
Mountains, Lakes, Rivers, Cities, you choose...
We can take the scenic route and appeciate some of the South Island's natural beauty on the way
The Bespoke Chauffeured opportunities, guided by a Local are endless...
Features Include:
Complimentary chilled water
Mobile internet (via mobile hotspot reception)
Late model Luxury European Vehicles - tailored to your group size
Reversible middle seats allow standard or face to face seating in the mini coaches
Zoned air conditioning
Luggage trailers or child / infant seats included as required
Experienced discreet professional local driver/guide entirely at your service
Thorough knowledge of the South Island's premier accommodations, activities and attractions
A fully Bespoke Service